Janet Marr and Jim Crump live at Stonewall Court off the Bill Owens Parkway. They enjoy their morning quiet, which is rarely disturbed by the sounds of the Pine Tree High School Band marching nearby, Crump said.
"Can you imagine what we're going to hear over here?" Crump asked.
Last month, Kenneth Shore, owner of ShoreCarter Resources, received the city's planning and zoning commission's first approval to convert approximately 11.5 acres at 1022 Bill Owens Parkway from multi-family homes to general retail space. Shore bought the property earlier this year and submitted plans to the city for a sports complex with retail space and a beer garden.
Longview City Council will consider the application at Thursday's meeting.
"I'm doing this so I have a place where I can go to eat with my family and friends, have a beer and my kids can play and be safe and have fun. It's just a feature that the city doesn't have," Ufer said.
Marr, Crump, and several other Longview residents don't share the same enthusiasm for the project.
The city on Tuesday received a petition signed by about 40 residents saying it would tell District 6 Councilman Steve Pirtle "no to residential retail." The petition mentions the rezoning and special use permit requested by Shore for the beer garden/sports facility.
"While ShoreCarter Resources states that this area is for the enhancement and enjoyment of the surrounding area," the petition reads. "We residents have several concerns."
Concerns listed in the petition include the "loss of the right to quiet use of our homes" and increased noise, traffic and light pollution in the area. The petition also cites safety as a concern, with the entrance to the area "located on a double-blind curve."
Residents who signed the petition live at Stonewall Court, Bill Owens Parkway, Montclair Circle, Grayson Drive and other streets near the proposed project.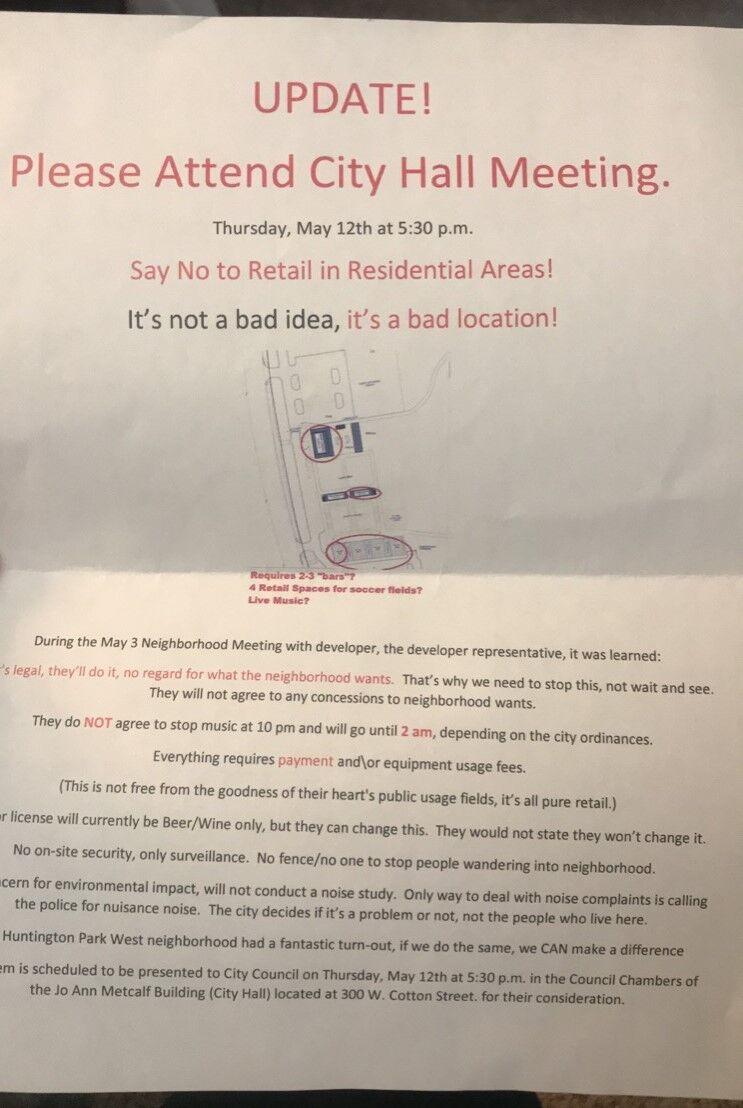 Along with signing the petition, Marr said she recently returned home and found a flyer on her doorstep, although she wasn't sure who left it. The flyer uses some of the same language as the petition, such as "Say no to residential retail," and talks about Thursday's city council meeting.
"I just don't see how being in a drinking atmosphere is supposed to help kids," Crump said. "Why don't they drink out here on the baseball fields? What's up?"
"I wonder how they would feel if that happened in their neighborhood," Marr asked the planning and zoning commissioners who approved the rededication. "I just can't understand why people think we'd be in a residential neighborhood for that."
Shore said he is pursuing the project because he believes the city needs it.
He said inspiration for the beer garden came from places Shore visited in Dallas and from his time as an exchange student in Germany and Bavaria. He was also influenced by his time as a board member of East Texas United Soccer Club, he said.
If approved, Shore said he wants to adapt the practice fields for five-a-side soccer games.
Crump and Marr shared concerns about how parking would work for the complex if the council approved the measure.
"What if we had an ambulance that had to drive Bill Owens down and they parked all that traffic and they can't park on the side of the curb it's against the law what are they going to do? It just doesn't make any sense," Crump said.
Lauren Rankin also lives at Stonewall Court and has signed the petition. Their concerns were more about public and private security.
"I'm afraid just like everyone else it would involve drunk driving," Rankin said. "I don't want anyone to get hurt."
She added that her husband is a light sleeper and has to get up early for work, so his concern is the noise coming from the complex late at night. Rankin said that she and her husband do not support the development of the complex and the security issues that would likely result from its approval.
Council members are expected to discuss seven other zoning issues, at least two of which have also received anti-zoning petitions. Longview City Council will meet Thursday at 5:30 p.m. at City Hall at 300 W Cotton St.