When visitors exit the CANDLES Holocaust Museum & Education Center in Terre Haute, they are greeted with a one-of-a-kind mural.
Titled Eva's Peace Garden, it is dedicated to Eva Kor, the museum's founder and Holocaust survivor. The museum last week unveiled the mural, which sits in the parking lot opposite the museum's main entrance.
"Eva always wanted to have a museum garden. She had a garden at home, but never a garden at the museum because we just don't have the space to do a garden, so the next best thing was to do a mural," said Troy Fears, executive director of the garden.
"It is full of different flowers and there are 11 hidden words in the mural. These words are about what our daily mission at CANDLES Holocaust Museum & Education Center is – hope, healing, acceptance, forgiveness – that are hard to find because your path to forgiveness or to hope and healing is not necessarily easy, so we ego didn't want the words to be easy to find," Fears said.
"It's a great addition to the public art space in Terre Haute. After hearing and learning about Eva's story, visitors can see the mural, have some hope and leave with a smile," Fears said.
Fears said the museum plans to "create a worksheet so students can find the words, and we expect the mural to be a great spot for group photos and selfies, so we expect it can really help get Eva's message across." spread." Fears said.
Terre Haute artist Becky Hochhalter said she painted many flowers, but one particular flower – the lilac – was a favor of Eva Kor.
"Lilac was Eva's favorite and the blue butterfly on the lilac bush represents Eva," said Hochhalter. "She often wore that color blue that was somehow associated with Holocaust survivors.
"I wanted the butterfly with the lilac bush and one of the words – forgiveness – that Eva talked about a lot is hidden in that lilac bush, so it's all a nod to Eva," Hochhalter said.
One of the words is part of the name of the garden – Eva's Peace Garden.
"Some words are easier to find than others, but I didn't want anyone to walk away and say I couldn't find a word. One word is not hidden, and that is the word "peace" that is in plain sight," Hochhalter said.
"There is symbolism in many things in the mural. Some people's journey to peace and healing is not easy and so they must seek it and this path (in the mural) represents that journey that leads far away, the journey to peace, healing and forgiveness. The bow is a crude wooden bow and represents the harsh life that Holocaust survivors led. It's not perfect, but it was made into something beautiful," she said.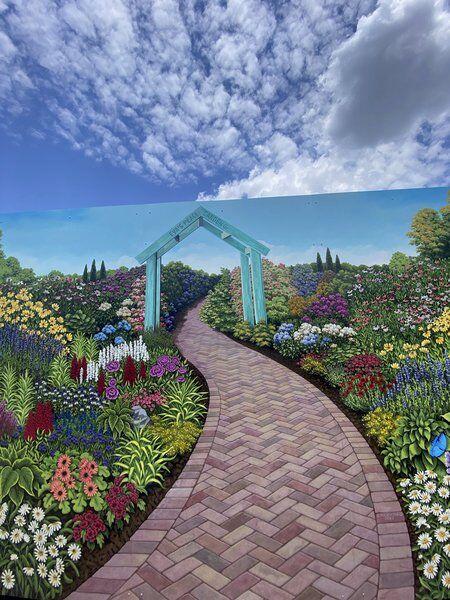 Hochhalter said the mural was special to her because former longtime neighbors — Walter Summer and his wife Louise — were Holocaust survivors. Both are now deceased.
"Walter volunteered at the Holocaust Museum … and knowing what wonderful people they were, this was for them and all the survivors," Hochhalter said.
Eva's Peace Garden was funded in part by the City of Terre Haute's Mini-Mural program, which started in 2021. The Peace Garden was the fourth mural in the program and the second for Hochhalter, who also painted a Stiffy Green mural in downtown the city.
The city will pay up to $750 for an 8-foot-by-8-foot mural, said Sherri Wright, associate director of Arts Illiana, which manages the mural program for the city. Four more murals are planned for this year, Wright said, including at Collett Park, Terre Haute Community Theater, Little Bear Coffee Co. and The Verve.
If a venue wants a larger mural, the venue then pays the difference, Wright said.
The Peace Garden was painted on aluminum panels.
"I've painted them several times," including a mural at the Deming Park train station, using UV-certified mural acrylic paint and a marine UV clear coat that was applied over the mural, Hochhalter said.
"All of this is said to have happened in the sun or in the rain or whatever," she said, adding that it took about three weeks to complete the mural.
"It took me longer than expected, but I wanted the details to be perfect. I always like it when people see more than what you see at first sight from a distance," said Hochhalter. "As people get closer, I want them to find more there, so I put a lot of time into the details and the hidden words."
The museum is open on Thursdays, Fridays and Saturdays from 10 a.m. to 4 p.m
Reporter Howard Greninger can be reached at 812-231-4204 or howard.greninger@tribstar.com. Follow @TribStarHoward on Twitter.