Wendy Mayer's garden in Medina has a few things rarely seen in North Dakota. Photo: Wendy Mayer
MEDINA, ND (NewsDakota.com) — You won't find a garden in North Dakota quite as unique as Wendy Mayer's in Medina.
Mayer has been gardening since she was a child and caught the "gardening bug" from her father, who often found solace and relaxation while planting. Now at 60, Mayer has discovered a fascination with growing unique strains and heirlooms in her recently built raised beds.
"Unlike commercial hybrid seeds, heirlooms have a history and have been passed down through time," Mayer said. "The quality and taste are unmatched by hybrids. I think the unique thing about what I grow is the strains."
From mini white cucumbers and pineapple tomatoes to Sun Sugar cherries and Dragon Tongue beans, Mayer has continued to explore delicious varieties not often seen in North Dakota.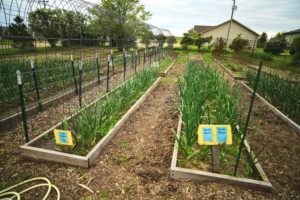 "I discovered Baker Creek Seed and as I read the listings for all these cool vegetables that had a fascinating history, I fell in love with heirlooms," Mayer recalls. "It's difficult to decide what to plant each year as there are so many options when you grow your own plants from seed. I've experimented with many strains here in ND. I am a native southerner and have learned here over the past 17 years which ones grow and which don't. Most are fine because our summer days are so long."
Other unique items found in her large garden include Black Cherry Tomatoes, Cosmic Purple Carrots, Collective Farm Woman Honeydew and Haogen Honeydew, Minnesota Midget Melon, Boston Marrow Winter Squash, Fingerling Potatoes, Golden Scallop Summer Squash , buena mulata hot peppers and a variety of garlic.
After going into delicious detail on her various featured items, she added that she hopes to increase garlic seeds each year to sell in the future.
Previously, Mayer built raised beds where they previously had a two-acre nursery. That was before the elements took over.
"The thistle took over, deer, raccoons, cows and gophers ate us outside and inside. So here in town, I can fencing it easier, build the raised beds, add soaking hoses, get grass clippings for mulch, and start putting weed barriers and wood shavings between the beds. It's still working, but hopefully it'll pay off again," she said.
Mayer estimates that she should have a nice looking garden by July, and it will be producing by early August. She hopes to be able to sell garlic again in the future, along with possibly more varieties.
Below are some photos of what Mayer has produced in her gardens:
Colorful Medina Garden